How to dose spirulina for your pregnancy?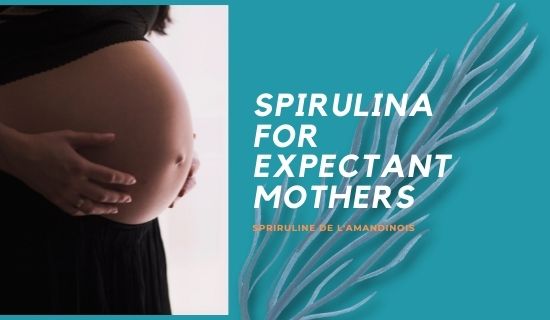 How to dose spirulina for your pregnancy and consume it in the best conditions ?
"Spiruline de L'Amandinois" explains to expectant mothers how to consume it before and after birth.
Spirulina during pregnancy, can we consume it?
It is important to inquire about the origin and the quality of the spirulina before consuming it in order to be sure that it is irreproachable. This fact is all the more important for a pregnant woman who wishes to continue or begin a cure of spirulina.
Choose a spirulina from which you can obtain:
the drying method (necessarily cold)
Spirulina and pregnancy, what are the benefits?
Thanks to its supply of iron, essential fatty acids (including Omega-6 gamma-linolenic acid) and vitamins, spirulina contains many nutrients that the body can benefit from. Also, Spirulina is a super food that pregnant women can consume throughout their pregnancy.
Iron requirements during pregnancy are very high, especially during the first 6 months. It is not uncommon to suffer from an iron deficiency during this period (about 20% of women). So much so that spirulina is a natural source of iron which, combined with a fruit rich in vitamin C, contributes to its assimilation by the body.
Vitamin B9
Folic acid, commonly known as vitamin B9, contributes to the formation of maternal tissues during pregnancy and plays an essential role in building the nervous system of the embryo.
Dosage of spirulina during pregnancy
Be sure to consume a reasonable dose of spirulina during your pregnancy.
We advise you to take 3g per day associated with a fruit rich in vitamin C (baobab fruit, acerola, kiwi).
Is it dangerous to consume spirulina for a pregnant woman?
there is no proven danger in consuming quality spirulina during pregnancy. Nevertheless, do not hesitate to seek the advice of your doctor and to ask him questions in case of doubt.
Spirulina an ally for future mothers
Spirulina combined with vitamin C helps with better iron assimilation and excellent digestibility, which pregnant women often lack. During your pregnancy, opt for the one in straws or tablets without additives and prioritize quality above all. Spirulina can also be consumed after childbirth during your breastfeeding period.
What is the dose for a child?
Children should not consume the same amount of spirulina as an adult. They must therefore content themselves with one to two grams of spirulina per day. The daily dose consumed will vary depending on the weight and age of your child and must be combined with a healthy and varied diet. Spirulina can also be mixed with a glass of fruit juice, for a real cocktail of vitamins!