Spirulina risotto recipe
Spirulina risotto, give your dishes a boost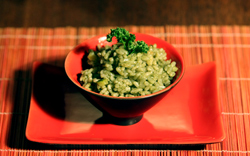 For 2 to 3 people
What are the ingredients ?
1 teaspoon Spirulina powder or twig
1 tablespoon olive oil
1 shallot
1/2 zucchini
150g risotto rice
10 cl of white wine
1/2 chicken broth
3 tablespoons full cream
Salt pepper
The simple and quick recipe
In a large saucepan, sauté the shallot and half-zucchini in olive oil for 5 minutes.
Then add the rice.
Cook for 3 minutes, stirring, until the grains become translucent.
Salt and pepper.
Pour in the white wine and leave over medium heat until the liquid is completely absorbed.
Gradually pour in the chicken broth until the rice is cooked and firm.
Add the whole cream and mix.
Get out of the fire.
Add the Spirulina and homogenize.
What are our other spirulina recipes: