The Story of Amandinois Spirulina
Let's discover together the story of the Spirulina of the Amandinois. Our peasant farm was born in 2018. As for spirulina, it has existed for more than two billion years.
The story of Amandinois Spirulina is detailed in the publication of the "Voix du Nord" of August 10, 2019. Following this photo below, we detail our history and our activity.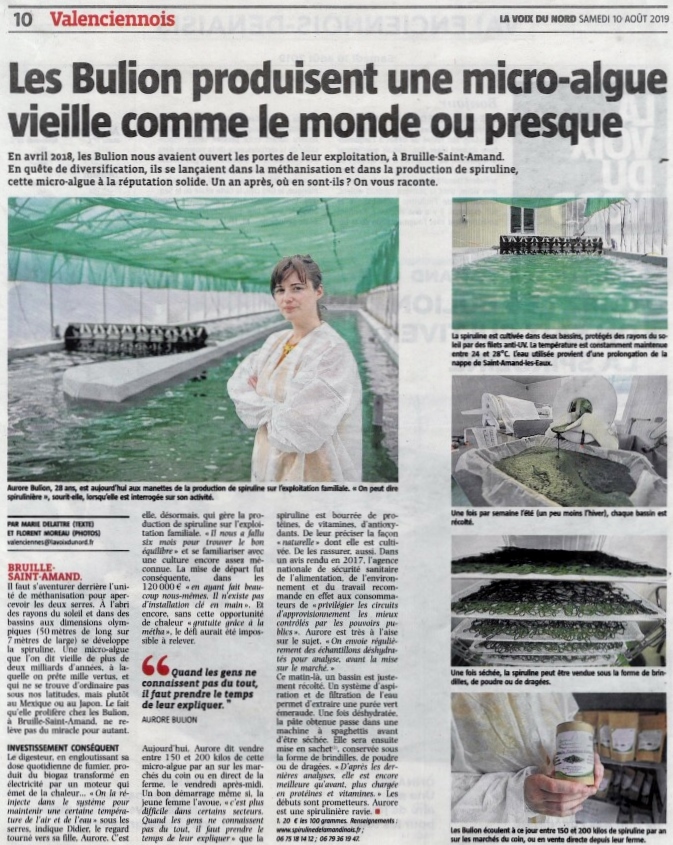 A superb family for a superfood
Didier Bulion, father of the family, a former farmer, converted to methanization with the help of his son. The trio Father, son and daughter Aurore, his daughter built the aquaculture ponds as well as a laboratory for the production of spirulina. An investment of 120,000 euros and a titanic amount of work were necessary for this seaweed with beneficial virtues to be produced on the land of Bruille-Saint-Amand. A real feat, since our green algae is usually found in Japan and Mexico.
The use of biogas in a short circuit
Indeed, Didier's methanation unit is located right next to the two huge greenhouses that protect the culture basins of Aurore Bulion, who manages production. Thus, the production of biogas from green waste and manure inserted into the facility's digester is transformed into electricity. So that the heat in the greenhouses and the temperature of the water in the pools is maintained by a virtuous circle.
What are the production phases of our peasant spirulina?
1-Culture of spirulina
Our spirulina is grown in two basins 50 meters long by 7 meters wide, protected from the sun's rays by anti-UV nets. The temperature must be constantly maintained between 24° and 28°.
2- Harvesting our green algae
We harvest once a week the entire production of the two basins. Also, the harvest is a little smaller in the winter period. At this stage, the spirulina looks like a green paste.
3- Drying and shaping
Once the spirulina has been stripped of its water, which will be recycled, our spirulina can be shaped either into powder, twig or dragees.
4- Packaging
We use recycled packaging to package our products.
5- Distribution
Our products are available for sale on our website. Also, at our distributors. Then, at the farm on Friday afternoons. And finally, in several markets in the region.
When people discover our spirulina, I take the time to explain it to them. Spirulina is packed with protein, vitamins, and antioxidants. It is important for me to promote our natural production in a short circuit.
Aurore Bulion.
Here are some other articles you may be interested in: